During the Panama-Pacific International Exposition (20 Feb-4 Nov 1915), Paul Elder & Company ran a satellite bookstore booth at the Fair. It was located in the Palace of Liberal Arts, at the corner of 2nd St and Avenue D. The store prominently featured the eleven different PPIE-related titles that Elder published.
The booth was designed by Bernard Maybeck, and features many of the same Gothic tracery elements featured in the Grant St bookstore, as well as one of the medieval-style chandeliers.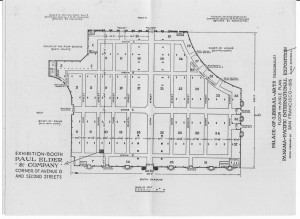 Inspection of the Palace of Liberal Arts floor plan reveals just how large the PPIE was. This very large exhibition hall was just one small part of the fairgrounds, covering what is now the entire Marina district of San Francisco.