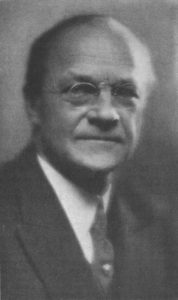 It took Morgan Shepard 45 years to find his calling as an author and advocate for children. Along the way he had a fruitful partnership with Paul Elder from 1898 to 1903.
Morgan van Roorbach Shepard was born in Brooklyn, New York, in 1865 and raised in Maryland. He had a turbulent youth: orphaned at nine, he attended several boarding schools until age sixteen. He held various jobs until 1885, when set off for adventure in South America, fell in love en route, fought bare-fisted for the woman and lost, switched to a California-bound steamer but impulsively disembarked in Central America, only to get promptly mixed up in a revolution there. Finally arriving in California, he worked as a miner, shepherd, grape picker, streetcar conductor (he was fired for giving free rides to children), reporter and finally, "thirteen interminable years" as a bank clerk in San Francisco.
In the mid-1890s Shepard fell in with the local bohemian set (no doubt influenced by his neighbor, Gelett Burgess) and he became a minor member of  les jeunes, the group involved in writing and publishing The Lark magazine. About this same time he was introduced to Paul Elder, and the two made plans to go into business together. Despite their differences—Shepard was artistic, friendly and outgoing; Elder was quiet and reserved with a head for business—their skills nicely complemented each other.

The firm of Elder & Shepard published about 40 books from 1898-1903. Several of them were children's books written and illustrated by Shepard, his first forays into the genre that would be the focus of his later life.
Shepard left the partnership in 1903. He traveled to Europe to study design, returning to San Francisco in 1906 to start a design firm, only to get burned out in the earthquake and fire. To make matters worse, he suffered a severe leg injury trying to retrieve valuables from his office safe.
Shepard moved to New York and published a few books under his own name. While recovering from an operation to save his injured leg, he sold poems and stories to children's magazines under the name "John Martin". In 1913 he started the children's magazine John Martin's Book, which by 1925 had almost 40,000 subscribers. Along with Morgan's own stories, John Martin's Book included contributions from the leading children's writers and artists of the day. The magazine's 20-year run ended in 1933.
Morgan Shepard had finally found the job he had been looking for. He never had much money, partly because he refused to commercialize John Martin's Book, but he claimed to be the richest and happiest man on earth.
Shepard married Mary Elliott Putnam (1854-1942), sister of Katharine Putnam Hooker, in 1894. Little is known about Mary Putnam, and Shepard wrote virtually nothing about her except to say that Mary did not share his enthusaism for children.
Shepard died at the Player's Club in New York City, his home of many years, on 17 May 1947, aged 82.