Japonisme was all the rage at the turn of the 20th century, and Paul Elder's carefully constructed bookstore-as-art-object was, in many ways, built upon the Japonisme sensibility. Dora Amsden's Impressions of Ukiyo-ye was the first of several Elder publications about the art of Japan block printing. First published in serial form in Elder's house magazine Impressions Quarterly between September 1902 and December 1903, it was reissued in book form in 1905. Elder was no doubt satisfied with the double entendre "Impressions," suggesting both hazy romantic views of Japan as well as the physical image of a printer pressing his paper to the stone.
Ukiyo-e (浮世絵) means "pictures of the floating world," and refers to a style of Japanese woodblock prints and paintings from 17th- to 19th-century Japan. The subject matter is often landscapes, historical scenes and folktales, kabuki theatre, sumo wrestlers, birds in the trees, and, of course, attractive women. Ukiyo-e had a huge effect on the West's notion of Japanese art in the late 19th century. In particular, the French Impressionist movement was strongly influenced by Japonisme.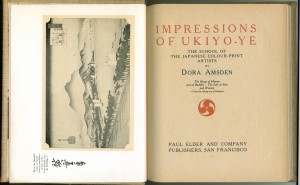 Impressions of Ukiyo-ye is bound in a Japanese style, with visible external cording on the spine. The book uses thin rice paper, printed on one side only with the pairs of leaves left unopened. Plates of ukiyo-ye scenes are inserted on white coated stock. The papers covering the inside of the boards contain pulped bark, a method that Elder used on several occasions.
Amsden's book was notable enough to warrant a review in the New York Times Book Review of 8 July 1905. However, reviewer Charles De Kay was not overly impressed: "Miss Amsden has good-will and certainly is far removed from the ordinary denseness which fails to understand an alien point of view; yet it can scarcely be said that she offers a new departure in the estimate of Japanese art."
I can find little information about Dora Amsden (11 Jun 1853-12 Jun 1947). Her brother Charles Watson Jackson was the brother-in-law of Thomas Dykes Beasley, who wrote Paul Elder's book A Tramp Through Bret Harte Country. Dora is buried at Mountain View Cemetery in Oakland, California.