Friederika Quitman was born in 1844 at Monmouth, her family's mansion in Natchez, Mississippi. She was the youngest daughter of General John A. Quitman and Eliza Turner Quitman, both of whom died when she was a teenager. She and her siblings inherited the estate, but it was attacked in 1862 by Union forces and the furnishings were sold or stolen. In 1863, at the age of 19, Frederika married Francis Eugene Ogden (1835-67), a Confederate officer; they had no children. Upon Francis's early death at age 32 Friederika became ill, probably with clinical depression. She continued to live at Monmouth, until the mid-1870s when she relocated to Berkeley Springs, West Virginia. It was here she began keeping a diary, writing about nature, philosophy, great literary works, and her own illness. By the turn of the century her health had improved, and on New Year's Day 1903 she married Austin Williams Smith (1843-1911), a widowed Confederate veteran and cousin of her first husband. They spent their final years at Smith's Saragossa plantation near Natchez. Friederika died in 1911, four months after her husband.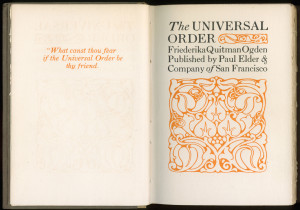 Friederika did not publish her diary during her lifetime. It was her niece, Eva C. Lovell, who selected entries from her aunt's journal (covering the years 1887-93) and arranged for publication with Paul Elder. Lovell also wrote the "Biographical Sketch" on pages ix-x, signed "E. C. L." Following that is an Introduction by "H. L. J.", identity unknown.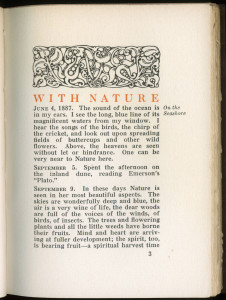 Elder published the book in brown paper over boards with gilt embossed printing on the cover, and matching dust jacket. The colophon does not identify the artist who designed the title page and chapter decorations.