Paul Elder's Abbey Classics series comes complete with a little mystery: how many titles were there?
Like the Panel Books, Paul Elder contracted The Abbey Classics from another printer, this one presumably in New York City. Publicity for the first two Abbey Classics volumes appeared in August 1907, and for the next two in November. In his "Thoughts For Your Friends" catalog in late 1907, Elder writes:
The Abbey Classics: The shorter of the great English and American poems, those which can be easily read at a sitting. With brief critical introductions. Edited by Walter Taylor Field.

"Flexible leather" binding of "The Building of the Ship"

The Cotter's Saturday Night. Burns. "The music of a shepherd's pipe, carrying straight to the heart."

Ode on the Nativity. Milton. "Joyous and yet earnest; bright and yet full of a stately dignity which is a prophecy of the grandeur of Paradise Lost."

The Vision of Sir Launfal. Lowell. "Illustrating three of Lowell's strongest characteristics: his kinship with nature, his wide humanity, and his moral force."

The Building of the Ship. Longfellow. "Presenting the thought of joyous and successful labor. The most characteristic and perfect of Longfellow's shorter poems."

Other volumes in preparation for 1Q08 include Coleridge's Rime of the Ancient Mariner, Browning's Narrative Poems (selected), Elizabeth Barrett Browning's Sonnets from the Portuguese, and Whittier's Snow-Bound.

Set in a bold, legible face of old-style type and printed on Normandy vellum, with rubricated initials. Each with a photogravure frontispiece of the author. Bound in rich brown Fabriano handmade cover. 30 cents net. Postage, 2 cents.

Edition B. Fabriano boards, vellum back. Boxed. 60 cents net. Postage, 3 cents.

Edition C. Flexible leather. Boxed. $1.00 net. Postage, 3 cents.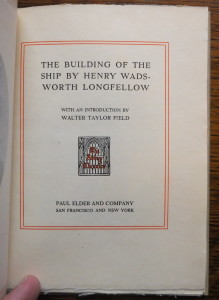 Based on this, your fearless editor added the Coleridge, Barrett, Browning, and Whittier titles to the checklist. However, it appears I was too hasty. Further research reveals in The Dial, vol. 49, no. 586, p. 389, 16 Nov 1910:
The Abbey Company of Chicago announce that they have acquired from Messrs. Paul Elder & Co. all rights in The Abbey Classics. They will add to the series Whittier's Snow-Bound, with a critical introduction by Mr. Walter Taylor Field.
Two months later The Bookman, vol. 32, no. 5, January 1911, reported that the Abbey Company had indeed released Snow-Bound in its Abbey Classics series.
There is also circumstantial evidence: in over twenty years of searching I have only seen examples of the first four titles. So I have chosen to remove the last four titles from the checklist, as the evidence strongly suggests that Elder never published them.
So then: there are four titles in the series:
The series was available in three bindings: "flexible Fabriano cover, Fabriano boards (vellum black), and flexible leather." The books are quite slim, following Elder's usual habit of producing a very giftable book, but not one whose reading would require excessive time.
The series' editor, Walter Taylor Field (1861-1939), was born in Galesburg, Illinois, and moved with his family to Chicago as a young boy. He graduated from Amherst in 1883 and held editing positions at several Chicago publishing companies. He contributed to various magazines and literary journals, and lectured on art and literature. He was also known as the author of a series of popular "Field Readers" for young grade schoolers who were just learning to read. Field married Sarah Lounsberry Peck in 1892; they had two children.1https://prabook.com/web/walter_taylor.field/1082456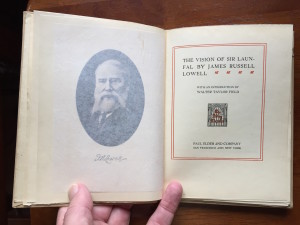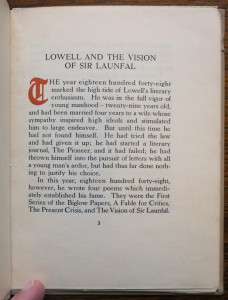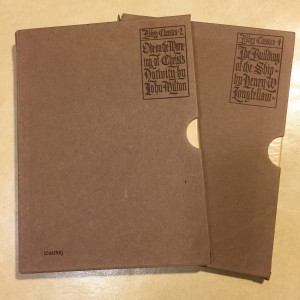 1

https://prabook.com/web/walter_taylor.field/1082456