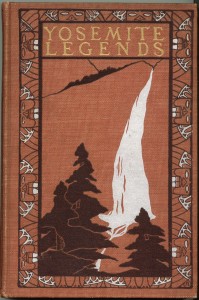 One of the most collectible titles in the Paul Elder catalog, Yosemite Legends (1904) is also one of the best illustrated. Thirteen original tonalist illustrations by Florence Lundborg, combined with Native American themes makes this a very attractive book indeed. The standard issue has a red cloth cover on boards, but a scarcer green cover was also published.
Florence Lundborg (1871-1949) was a native of San Francisco. She studied with Arthur Mathews at the School of Design in San Francisco, and won a gold medal in the life class at the Mark Hopkins Institute. She also spent several years at the Whistler Academy in Paris (1897-1900). Lundborg was a member of Les Jeunes ("the kids"), the eclectic, bohemian group of writers and artists involved with Gelett Burgess's magazine The Lark, for which she illustrated several covers and posters. The Lark was published by William Doxey, the bookseller for whom Elder worked before striking out on his own. Lundborg is also known for her pen-and-ink illustrations for Doxey's edition of The Rubaiyat of Omar Khayyam.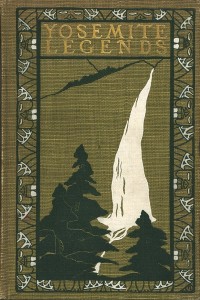 On 18 October 1904, Paul Elder hosted a soirée in celebration of the publication of Yosemite Legends,  including an exhibition of Lundborg's original artwork for the book (see photograph below). Sadly, her plates were lost in the 1906 earthquake and fire.
Author Bertha Henry Smith (1872-1922) was a Los Angeles-based magazine and literary writer. She was born in Olathe, Kansas, the sixth of eight children of grocery and produce dealer William Piper Smith and his wife Rachel Lavinia Kay Smith, both of whom were from Pennsylvania. Bertha never married and had no children. She died of breast cancer in 1922 at the age of 50.
Many thanks for Kol Shaver of Zephyr Used & Rare Books in Vancouver, Washington for information on Bertha Smith.