As with the other three books in Paul Elder's quartet of formal books on the Panama-Pacific International Exposition, The Sculpture and Mural Decorations of the Exposition (1915) consists primarily of tipped-in photographs with accompanying descriptive text. A. Stirling Calder, the "Acting Chief of Sculpture of the Exposition," has name is on the cover, but his contribution consists of a ten-page Introduction. All of the other text is by author Stella Perry.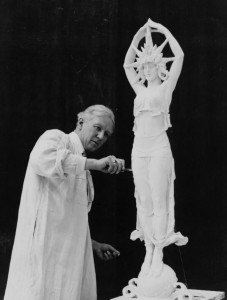 Alexander Stirling Calder (1870-1945) was an American sculptor and educator. He was the son of sculptor Alexander Milne Calder, known for his sculptures in Philadelphia City Hall, and the father of Alexander Calder, inventor of the mobile. Calder created many pieces for the Fair, including the well-known "Star Maiden," which curiously does not appear in this book. The model for Star Maiden was Audrey Munson, who was then at the height of her fame; it has been claimed that she posed for as many as three-quarters of the Fair's statues. (In 1915, Munson also became the first woman to appear nude in a non-pornographic film.)
Stella George Stern Perry (1877-1956) was an American author, suffragist, and social reformer. She graduated from Barnard College, where she was one of four co-founders of the Alpha Omicron Pi sorority. She wrote two children's books for Paul Elder, Little Bronze Playfellows (1915), and Clever Mouse (1916).