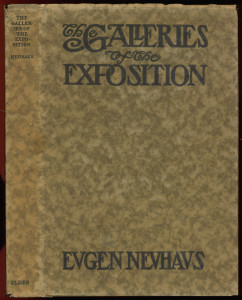 While Eugen Neuhaus's Art of the Exposition viewed the Panama-Pacific International Exposition as a whole, in his companion volume Galleries of the Exposition, he focused on the paintings in the Palace of Fine Arts. Neuhaus's goal is nothing less than a comprehensive guide to the galleries:
It is certainly no small task to enjoy a large exhibit like ours and to preserve one's peace of mind. The purpose of these pages is to assist in guiding the uninitiated, in the his visit and in retrospect, without depriving him of the pleasure of personal observation and investigation. It is not to be expected that all pictures exhibited should be of a superior kind. If so, we should never be able to learn the recognize the good among the bad.
Unlike museums today, it would seem there was little or no interpretive material in the galleries themselves, else guides like Neuhaus's would hardly be necessary. Neuhaus moves from the European galleries, organized by country, into the American ones, each devoted to a particular artist. He likes the Impressionists ("According to the form of their colour dots they were called pointillistes… The service of these men to art can never be estimated too highly.") but not the modern Japanese artists ("Why they want to divorce themselves from the traditions of their forefathers seems incomprehensible.").
Neuhaus reserves his highest praise for James McNeill Whistler, John Singer Sargent, and William Keith ("some of his best things are gems in easy-flowing methods of painting which the best men of the Barbizon school seldom approached").