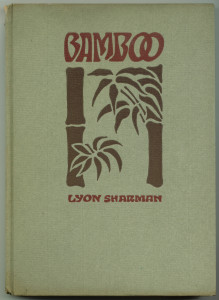 In February 1912, the Manchu Dynasty, rulers of imperial China since 1644, collapsed and was replaced by the fledgling Republic of China. Watching with great interest from Chicago was Lyon Sharman, an American woman who grew up in Hangzhou, 100 miles southwest of Shanghai. In her dedication to Bamboo, Tales of the Orient-Born, which Paul Elder published in 1914, Lyon clearly approves of the change in government:
If one might presume to dedicate so slight a book to a great country, this would be dedicated to China—the land of the author's earliest recollection and of abiding sentiment, a nation whose present renaissance commands the admiration and solicitude of one who was born to lover her.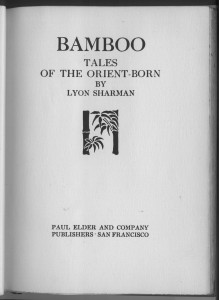 The stories in Bamboo are intended for young readers. The characters reflect Sharman's own experience: Chinese growing up in China, Americans growing up in China, "American" teenagers newly returned to the States who feel like foreigners. The first story, "A Little Daughter of the Gospel," is clearly autobiographical.
Lyon Sharman (14 Sep 1872–21 Jul 1957) was born Abbie Mary Lyon in Hangzhou, China, the daughter of American missionaries. While a teenager the family returned to the United States, where she attended high school and earned a BA from the University of Wooster in Ohio. She attended the Moody Bible Institute in Chicago, intending to join her father as a missionary, but met and married Henry Burton Sharman (1865-1953). While working towards her Ph.D. in literature from the University of Chicago, Abbie wrote book reviews for the Chicago Evening Post under the byline "Lyon Sharman." She later branched out into fiction, poetry, biography and drama. Abbie and Henry spent three years in China while he taught at Peking University; she continued to write. They retired to southern California in the early 1930s and lived there for the rest of their lives.