Book series that gather and reprint public domain fiction have a long history. Perhaps the earliest series was Poets of Great Britain Complete from Chaucer to Churchill, founded by British publisher John Bell in 1777. Later British series included Routledge's Railway Library (1848–99) and the Everyman's Library (1906-). A well-known American example is the Modern Library (1925-70). Book series were a familiar sight at any turn-of-the-century bookstore.
Paul Elder published several such series. The first and largest was the Impression Classics in 1902, just one of the many items in the Elder catalog to bear the "Impression" name. There were thirty-six titles in the series, as listed in Elder's 1904 Catalog From a Western Publisher (catalog C20):
Impression Classics. A selected series of the shorter gems of literature. Beautifully printed on deckle-edged paper, with title page in two colors and etching frontispiece on Japan vellum. Bound in flexible grained lambskin with original design. Boxed. $1.25 net.
The Impression Classics series was published twice: in 1902 by Elder & Shepard, and again in 1904 by Paul Elder & Company. The title page (see photographs above) is the easiest way to distinguish them, but in some cases the cover design also is an indication. As was the case with other series published by Elder, he bought the sheets elsewhere. In the case of Impression Classics, the sheets are known to come from H. M. Caldwell's Remarque Edition of Literary Masterpieces series, first published in 1900. For example, the frontispiece and text of title #18, Rubaiyat of Omar Khayyam, is page-for-page identical to Caldwell's Rubaiyat. Only the title page and cover designs are Elder's. While the 1902 printings read "Printed by The Stanley-Taylor Company, San Francisco" and the 1904 printings read "The Tomoyé Press, San Francisco," this refers only to the leaf containing the title and printer's name, and that bearing the half-title. Caldwell's name is not mentioned anywhere in the Elder imprints.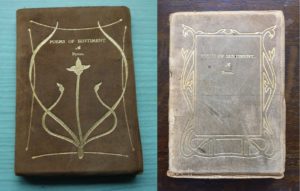 There are five known cover designs, which I have labelled A-E (see photograph). Covers A, B, and C were almost certainly designed by Morgan Shepard, and are the only covers which have been seen on the 1902 imprints. Cover D was designed by Spencer Wright (cited in Catalog From a Western Publisher), strongly suggesting that Cover E is Wright's as well. It's unknown whether there was any logic behind why a given title appears with a given cover design. Some titles are known to have appeared in multiple covers: for example, Elegy Written in a Country Churchyard has been seen in Covers C and D, and Poems of Sentiment in Covers A and E.
There were also three different colors of leather: brown, green, and red. However, over the decades many green covers have faded to brown, sometimes leaving only a smudge of green on back cover or on the inside surfaces of the covers along the edge of the endpapers (note the fading in the Cover C example in the photograph above). The title pages are in two colors and include one of two tomoyé designs, depending on whether the title is the 1902 or 1904 printing. There is a half-title page containing the text "Impression Classics." Many copies have endpapers containing strips of bark, something Elder used in a number of his other publications. The leather is good quality and has held up reasonably well, much better than the Panel Books, for example. The books were sold in unmarked boxes, protected by an unmarked glassine dust jacket, neither of which typically survive.
In December 2020, I was able to identify the frontispiece artist, previously known only by the signature "AD MARCEL," as French artist Adrien Marcel. All of the frontispieces in the series are by Marcel, though of the seventeen titles I have seen, only nine are signed by him.
Some of the titles include a short introduction or "prefatory remarks," usually anonymous. The signed introductions that have been seen so far are:
Chesterfield's Letters To His Son, by "J. H. F.," identity unknown
Fitzgerald's Rubaiyat (#18), by "M. K." (Michael Kearney). Kearney was a Persian scholar who, in addition to the long (33 pages) introduction in the book, also translated many of Khayyam's quatrains.
O'Reilly's Selected Poems (#36), by William A. Hovey. Hovey (1841-1906) was a newspaper editor in Boston, and evidently a good friend of the poet.
I would like to thank Roger Paas for details on Michael Kearney and Caldwell's "Remarque Edition" series.