Cover of "After the War – What?"

What is there to talk about except the one thing we are all thinking about–the war? … I profoundly believe that if the world is to be saved at all, it is to be saved by putting into practise some things which have long been called impractical. The world has been wrecked on the hard rocks of the "practical;" it is time to patch up the old vessel and put to open sea, on the boundless, fathomless, untried waters of the ideal.
On 13 July 1917, the University Club of San Francisco invited Mr. Stockton Axson to speak at a dinner reception for summer session faculty of the University of California. He was Professor of English at the Rice Institute (now Rice University) in Houston, Texas, but that was perhaps not the most notable thing about Axson. The most notable thing was that his brother-in-law was the President of the United States.
Isaac Stockton Keith Axson II (who always went by Stockton) was born on 15 June 1867 in Rome, Georgia, the son of Rev Samuel Edward Axson and his wife Margaret Jane Hoyt. It was a troubled childhood–his mother died in childbirth and his father committed suicide–and he struggled throughout his life with mental health. Stockton was still in high school when a graduate student in political science named Woodrow Wilson began courting Stockton's sister Ellen. They married in 1885, and Stockton and Woodrow soon became close friends.
Wilson, who became President of Princeton University before moving into politics, helped Stockton get a job at Princeton. Axson published little but was popular as an undergraduate lecturer in English literature.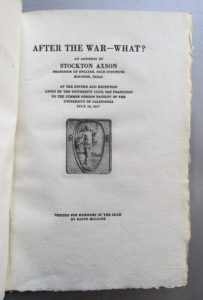 In conjunction with the publication, in sixty-nine volumes, of The Papers of Woodrow Wilson, the Princeton Legacy Library occasionally issues supplementary volumes about Wilson's thought or actions. In 1993 they published "Brother Woodrow," the previously unpublished recollections of the brother-in-law who knew Wilson intimately for forty years and was as deeply devoted to him as he was often puzzled by his behavior. The editors write:
This memoir of Woodrow Wilson is a long-neglected treasure, full of the candid and perceptive observations of Wilson's brother-in-law and close friend, Stockton Axson. A charming and talented scholar of English literature, Axson became one of the few people in whom the reticent Wilson confided freely. Axson and Wilson met in 1884, when Wilson was courting Axson's sister Ellen, while Axson was still a school boy. The friendship of the two men ended only with the president's death in 1924. Axson's fondness for his mentor, "Brother Woodrow," pervades this account, but he is frank in his analysis of Wilson's flaws. As one of only a few personal memoirs of Wilson, this book offers a uniquely intimate view of the "human side" of the introverted president–and a sensitive evocation of the social life of a bygone era.

Page 3 of "After the War – What?"

Axson begins with memories of Wilson's father and of Wilson's life as a young man, including his engagement and marriage to Ellen Axson and his early teaching posts. Wilson taught for twelve years at Princeton University before his accession to its presidency, and Axson also taught there during this period. After Wilson began his stormy career as president of Princeton, Axson's bachelor quarters were often a meeting place for the "Wilson faction." His lucid analysis of Wilson's successes and failures as Princeton's president is one of the highlights of the book–and probably the best record of these years of Wilson's life.

The book ends with a look behind the scenes of Wilson's career as governor of New Jersey and president of the United States, and an analysis of the growing complexity of his personality. "It is Uncle Joseph [Wilson's father] in him," observed one relative of Wilson's seeming rigidity. From the standpoint of a loving family member, Axson offers a penetrating but sympathetic report on how Wilson changed as he bore the terrible burdens of World War I and its aftermath.
Stockton Axson moved from Princeton to Rice in 1913. Excepting a two-year stint as national secretary of the American Red Cross, he remained at Rice until his death on 26 February 1935.
The book is a thin volume: only twelve pages of text, though there are almost as many blank leaves at the back as there are printed ones in the front. It is bound in brown cloth over boards, and issued with a delicate glassine dustjacket. For this title Elder used high quality Italian laid paper with a "Tuscany" watermark. The book was issued in October 1917, and may have been a vanity publication.