Today Charles Keeler is known as a poet and author of The Simple Home, but in the 1890s he was best known as a naturalist. After graduating from the University of California, Berkeley, he took at job at the California Academy of Sciences (then located south of Market Street in San Francisco). In 1893 he wrote a long monograph for the Academy called "Evolution of the Colors of North American Land Birds," a work admired at the time but whose science is today almost completely discredited.
By the end of the decade Keeler had decided that academia was not his cup of tea, and channeled his scientific work into writing for the armchair naturalist: Bird Notes Afield was published in 1899 by Elder & Shepard. Keeler describes the joys of birdwatching in his usual florid style:
We who know California think it the most glorious of lands. The winds of freedom blow across its lofty mountains and expansive plains. There is something untamed and elemental about its wildernesses, and a tender charm about its pastoral valleys. The everlasting seas thunder upon its bold, granite headlands, the pines lift their heads almost into the snow of its mountain tops, the sequoias rear their peerless shafts along the north coast and in isolated Sierra groves, while in the great interior valleys grow the dark, venerable live-0aks; the sycamores sprawl their hoary trunks aloft, and willows and alders wave their delicate foliage beside the streams. … In this land I invite you to wander with me, seeking out the birds. If we but look for them we shall find them everywhere. If we but listen to them, the desert as well as the garden shall resound with their songs.
Keeler then proceeds to describe the native birds of California from loon to lark, from gull to grosbeak:
If the junco is merry, the kinglets are the incarnation of feathered light-heartedness. No larger than your thumb, these little midgets are full of restless animation and nervious enthusiasm.
and
In the late afternoon the russet-backed thrushes begin their ethereal caroling, and presently the western night-hawk hies him from the privacy of his woodland retreat where his mottled brown plumage blends with the tree trunks.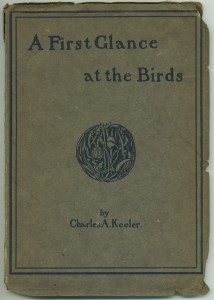 Keeler organized Bird Notes Afield as a sort of calendar, with chapters such as "January in Berkeley", "A Trip to the Farallones", "April in Berkeley", "Summer Birds of the Redwoods", and "Nesting Time." He paid particular attention to his home town of Berkeley, as a naturalist writes about what he sees and what he knows.
Bird Notes Afield was a popular title for Elder and Shepard. Originally published in October 1899, there was a second printing in May 1900. In 1899 they also published A First Glance at the Birds, which is simply the first chapter of Bird Notes Afield issued in pamphlet form. A second edition of the entire work appeared in April 1907, with a new preface and index.