Imagine a children's book designed to encourage a toddler to learn the thrill of accomplishment by, say, climbing up a flight of stairs. Today, that book would probably be full-color drawings. In 1902, Elder & Shepard published such a book, George Hansen's Ascent of Man, consisting of a series of photographs of a real toddler, Hansen's own son Roland.
Ascent of Man was just one of a series of five booklets, all featuring the young Roland:
Vespers
Ascent of Man
Lima Beans
In Company
His Calculations
George Hansen (1863-1908) was born in Hildesheim, Germany. His grandfather, J. G. K. Oberdieck, was a famous pomologist (the study of fruit) and was rewarded by the Prussian government with a reserved place in university for whichever of his grandchildren wanted to pursue horticulture. George was chosen, and he attended school in Potsdam. He moved to England in 1885 and worked for F. Sander & Company in their orchid house, drawing illustrations for their publication Reichenbachia. He came to San Francisco in 1887 and was named foreman of the University of California Foothill Experiment Station in Jackson, in the Amador County foothills. He spent seven years there, collecting in the surrounding Sierra Nevada. As a result, some thirty new species were named for him.
In 1889, George married Linda Frances Rinehart (1869-1948), a native of Amador County. But in 1896 Hansen suffered a debilitating spinal injury, forcing him to leave his position at Foothill Station and move to Berkeley. He spent the last dozen years of his life largely confined to his house and garden, and died there on 31 March 1908. The photographs for Baby Roland were taken by Hansen at the family home at 2705 Hearst Ave. in Berkeley. The house no longer exists. Roland's life too was short: born in April 1900, he died 4 March 1920 at the age of nineteen.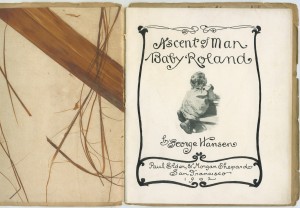 There is no typesetting in any of the booklets; all the text and decorations are drawn by hand, almost certainly by Morgan Shepard. The cover and title pages also feature photographs of Roland. To best display the photographs, the paper is coated stock, instead of the laid paper usually favored by Elder. The endpapers are impregnated with thin strips of tree bark, a style used by Elder in several other titles.
Morgan Shepard, who spent most of his adult life writing and publishing books for children, probably coordinated the whole project, as perhaps he also did with Hansen's book What is a Kindergarten?, published the previous year.
The Baby Roland booklets are now quite scarce.