This slender volume gets my vote for the gentlest, loveliest title in the Paul Elder catalog. The Little Brown Hen Hears the Song of the Nightingale (1908) was written by Jasmine Van Dresser and illustrated by her husband William. The book contains two short bedtime stories for children: the title tale and "The Little Apple Tree Bears a Golden Harvest."
"The Little Brown Hen Hears the Song of the Nightingale" is the story of an ornery goose and a gentle hen; the moral is "it isn't always those with the loudest voices that have the best things to say." The second tale teaches how Nature is interconnected, and how good things come to those who wait. William Van Dresser's illustrations are very nice indeed, and he also supplied a custom decorated border for each story. His frontispiece is a mystery: a woman stands in the moonlight, holding out her cupped hands; this scene does not appear in either story. There is a brief introduction by Margaret Beecher White, noting that "it is the duty of all good, useful stories to give a message to their readers," and that "the two dainty stories contained in this little volume each carries its message of truth."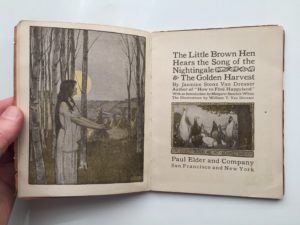 Jasmine Edson Stone was born in 1875 in St. Louis, Missouri. She graduated from Randolph-Macon Woman's College in Lynchburg, Virginia and was working as an actress in New York City when she met her future husband. By 1915, the Van Dressers, along with their sons Cleland and Peter, became well-known actors in New York City, most notably performing everyday dramatic scenes of an American family for soldiers at nearby military bases. Jasmine wrote the screenplays, noting there was nothing more dramatic than the life of parents dealing with the needs of children. She was a member of the Authors Guild (then called the Authors League of America) and wrote many children's books in her career, with such titles as Jimsey, The Wonderful Hammer, The Story of Silky, The Kitty With the Black Nose, and The Little Pink Pig and the Big Road. Jasmine and William spent their final years in Boca Raton, Florida. She died in 1948, and is buried in Solebury, Pennsylvania.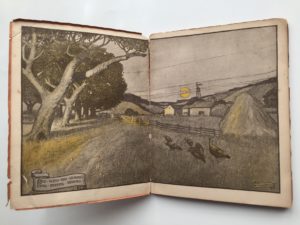 William Thatcher Van Dresser was born in 1871 in Memphis, Tennessee. He was a talented athlete, and spent four years as a semi-pro baseball player, mostly in the Southern Association and Texas League. When his team folded in 1896, he headed north to pursue a career in art. By 1900, he was living in on Fifth Avenue in Manhattan. In 1903 he and Jasmine were married; Cleland was born in 1904, and Peter in 1908. William's reputation as a commercial artist was growing, and he was a popular artist for magazine covers. He also began illustrating books, including today's spotlight and the Jack London novel The Little Lady of the Big House. Later he was commissioned to paint portraits of Presidents Calvin Coolidge and Franklin Roosevelt. William died in 1950, and is buried in Tampa, Florida.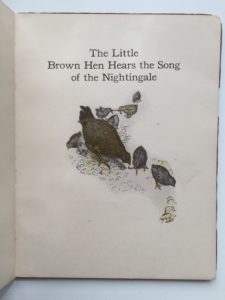 Margaret Humphrey Beecher White (1868-1948) was an author on Christian Science topics. She was granddaughter of the prominent minister Rev. Henry Ward Beecher, and grand-niece of Harriet Beecher Stowe, author of Uncle Tom's Cabin.
Thanks very much to Kris Rutherford for historical information on the Van Dressers.
---
Sources:
"William Van Dresser's Sketchy Side," by Kris Rutherford, 12 July 2016
Jasmine Van Dresser burial site
William Van Dresser burial site