In a corner of San Francisco's Portsmouth Square stands a granite pedestal topped by a bronze sailing ship. It is the Robert Louis Stevenson Memorial, designed by Bruce Porter and Willis Polk in 1897. During Stevenson's brief time in San Francisco in 1880 and 1887, he often came to the Square to sit in the sun and regain his health.
The Spanish galleon atop Stevenson's monument was chosen by Paul Elder as the totem for the booklet Happiness. It appears on the title page, frontispiece, as well as stamped in gold on the cover of the leather edition. It is also used within the booklet as the dingbat separating the quotations (see image below).
Stevenson had always been one of Elder's favorites. Elder was working at William Doxey's bookstore in the Palace Hotel when Stevenson suddenly died in Samoa in 1894; Doxey subsequently devoted an entire storefront window to Stevenson's memory. Elder published three works of Stevenson's and made frequent use of his quotations in calendars, leaflets, mottos and, of course, within Happiness itself.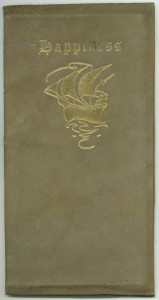 The three booklets Happiness, Nature and Success were published in 1903 in response to the (perhaps unexpected) popularity of Friendship. The fifth booklet in the series, Love, would follow in 1905. And as with Friendship, Elder issued Happiness three different ways:
Edition A: bound in flexible Mecca sultan. Enclosed in uniform envelope. Price, 50 cents ["sultan" is a deep red color, and "Mecca" is just a word Elder added for a flair of the exotic.]
Edition B: bound in flexible suede, with fly-leaves of illuminated Japan vellum. Enclosed in box. Price, $1.25
Edition C: bound in full white calf by Miss Crane. Price, $5.00
In 1906, Elder gathered the five booklets into a single volume called Mosaic Essays, also issued in multiple bindings.