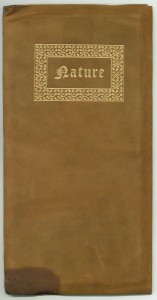 Nature is a booklet of quotations in the Mosaic Essays series, compiled by Paul Elder. It was published in 1903 along with Happiness and Success in response to the success of 1902's Friendship. In 1905, Elder published the last booklet in the series, Love. In 1906 he issued the five booklets in a single volume called Mosaic Essays.
As with the other booklets in the series, Nature was published in three bindings:
Edition A: bound in flexible Kozak sultan. Enclosed in uniform envelope. Price, 50 cents ["sultan" is a deep red color, and "Kozak" (i.e. Khazak) is just a word Elder added for a flair of the exotic.]
Edition B: bound in flexible suede. Enclosed in box. Price, $1.25
Edition C: bound in full white calf by Miss Crane. Price, $5.00
The frontispiece is "In the Heart of the Woods," from the painting by William Keith.
I have examples of both Nature and Happiness in green instead of red "sultan." Perhaps this green color is what Elder meant by "Kozak sultan."