One of my latest Paul Elder acquisitions is A Cycle of Gleanings (1909), by Ella Blake Stone. It joins a small stack of other Elders where the copy I own is the only copy I've ever seen, even after thirty years of searching. The text is a compilation of quotations, one for each day of the year. Books of quotations were a time-honored Paul Elder device—they must have sold well because he kept publishing them—but they can hardly be called great literature.
The title page reads "A Cycle of Gleanings – from El Labla Kest – One for each day in the year," but "El Labla Kest One" is simply "Ella Blake Stone" with the spaces in different locations. The printing on the frontispiece tissue guard reads "Aloha Oe e Ke Onaona Noho Ika Lipo" ("farewell to thee, the charming one who dwells in the shaded bowers"), which are words from the well-known Hawaiian song "Aloha 'Oe," written by Princess (later Queen) Lili'uokalani in 1878.
Printed on a high-quality English rag paper named "Arnold Unbleached" with a green leather cover embossed in gold, it's an attractive and well-made book. The book is undoubtedly a vanity publication, given the limited press run of 100 copies and the use of expensive paper: Elder did not lavish such paper on his ordinary trade books. The cover decoration and interior borders are designed by Harold Sichel, one of Elder's favorite artists. The border on the verso is a mirror-image of the recto (including a mirror-image of Sichel's HS monogram). The borders were reused by Elder in 1910 for Lillyan Shaffner's Love & Friendship.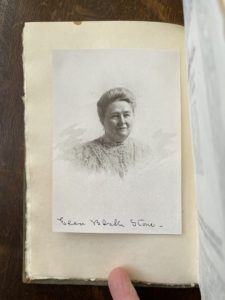 Ella Blake Gordon Stone (28 Jun 1837, Louisville, Kentucky – 28 Dec 1919, Santa Barbara, California), was the oldest of six children of John Gardner Gordon and Sarah Reinhard. When she was seven years old, her father moved the family to Muscatine, Iowa. In 1857, she married William Reade Stone (1827-1915) in Muscatine. They lived in Duluth, Minnesota for many years before moving to Santa Barbara, California, where they died and are buried.
Everything so far would make a nice uneventful story of a handsome book… if it weren't for my discovery of the other book that Ella Stone wrote.
Stone was also the author of O-So-Ge-To the Hopi Maiden, and Other Stories, published by W. B. Conkey Co. in 1907. This book makes for excruciating reading. It is a collection of eight children's stories that range from patronizing and misogynistic to unapologetically racist. The title story is a sadly typical one from a white author about native peoples: a young Hopi maiden named O-Se-Ge-To is left in the desert as a sacrifice to the "Fiery Spirit" so that desperately needed rain will come. She is found by Padre Esteven ("blessed be his memory"), who is leading a group of priests into the desert to Christianize the Indians, and they baptize her into the Church and rename her Eufrasie. After being taken to Mission Santa Barbara in California, she falls in love with a sailor named Miguel. They are soon married, but he is drowned in a storm at sea. Eufrasie dies of grief after tossing her silver Hopi bracelets into a cauldron that is forging a new bell for the Mission.
The truth, of course, is that the Hopi do not practice human sacrifice, and that as early as 1540, the Spanish were brutally persecuting and sometimes enslaving the Hopi, both for maintaining their own religious customs and for resisting conversion. This eventually prompted the Pueblo Revolt of 1680, one of the few instances where native tribes were able to successfully evict the colonizers. Paul Elder was not immune from publishing material now viewed as racist, but all the same I am happy that it was not he who published this highly offensive book.