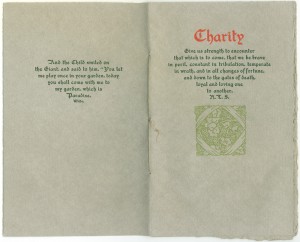 Today we gather as families and communities and give thanks for what we have. I urge you to take time to help those less fortunate. The Chronicle Season of Sharing Fund, now in its 26th year, provides one-time, temporary assistance to those experiencing an unexpected crisis. All of the Fund's administrative expenses are covered by the Evelyn and Walter Haas, Jr. Fund and the San Francisco Chronicle. As a result, 100% of the money raised by the Chronicle Season of Sharing Fund goes directly to help the families and communities it serves.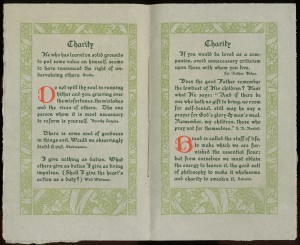 Charity (1911) is one of many pamphlets of inspirational quotes published by Paul Elder & Co. The verses were chosen by Beulah Warner, of whom nothing else is known. The distinctive typeface is called Washington Text, and the green decorations are by Charles Frank Ingerson (re-used from A Book of Hospitalities in 1910).
I wish you a warm, happy and healthy Thanksgiving.